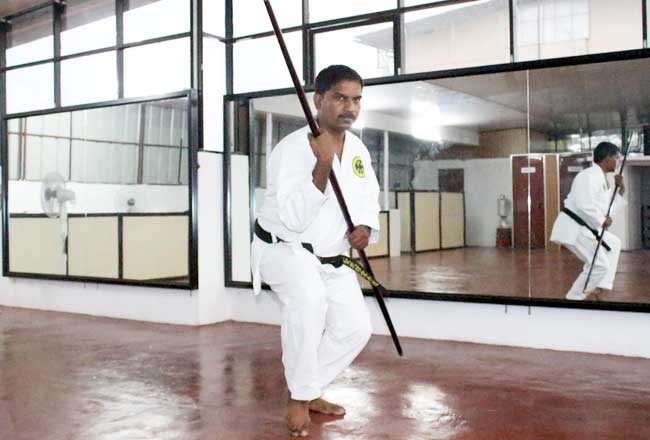 KOBUDO is a Japanese word which commonly understand as "old martial arts way of Okinawa". KO – BU – DO is also translates as "No War Way" and it is an ancient Okinawan weaponry art which has been practiced along with Karate in traditional martial arts schools in Okinawa. Karate and Kobudo are said to be brother and sister in the same family of martial arts and Kobudo practice develops the ability to fight and defend with weapons whichever it may be. Being an empty hand method, Karate may faces difficulty to handle many situation where the opponent attacks with weapons. So the practice and skill with the weaponry art like Kobudo obviously help to cope up with such situation more realistically.
Like Karate, Kobudo also has many Katas with each weapons that has been developed through the passage of time by many notable masters like Shigeru Nakamura, Chachan Yara, Kanga Sakukawa, Tokumine Pēchin and Shinko Matayoshi.
Kubudo weapons are mostly agricultural tools and house hold articles which are used commonly used in China, Okinawa, Japan etc. It is said that these tools were being used as weapons when all weapons are banned for general public in Okinawa and these are confined only to military men. Martial arts practitioners in Okinawa then turned their faring tools into weapons and developed a system to train with them to protect themselves.
Most common Kobudo weapons are Bo (six feet staff), SAI (three-pronged truncheon), Tonfa (gripped by the short perpendicular handle or by the longer main shaft), Nanchaku (two sections of wood (or metal in modern incarnations) connected by a cord or chain).
Some pouplar Kobudo katas are :
Chatan Yara No Kon Sho
Sakugawa No Kon
Shishi No Kun
Tokumine No Kun
Choun No Kon
Sakugawa No Kon
Unfortunately worldwide practice and popularity of Kobudo is getting vanished and the same is going to be an extinct martial arts in near future. One thing is that dojos are not equipped with Kobudo weapons and the other thing is that lack of competent trainers in this art. We are lucky that we have a strong linage from International Okinwan Kobudo and our senior masters are well versed in this art, and our dojo is equipped with sufficient Kobudo weapons. A regular training sessions is going on Wednesday's in our dojo.